Something as simple, yet satisfying, as camping has been around for centuries in the UK, enabling people to escape from their inner city lives and take in the sights, sounds, and smells of the great outdoors. That's probably why over 1.2 million people in the UK will go camping in some capacity this year – there's nothing else quite like it.

Thanks to the technology at our fingertips today, camping doesn't just have to be a plain tent and the ground beneath your feet anymore. That's what gave rise to "glamping," a new kind of camping including the amenities you love and cherish so dearly. Now you can enjoy the splendour of the great outdoors with everything from lighting and music, to a gorgeous glamping dome that will look amazing in photos.

With so many new glamping opportunities in the UK as this form of outdoor immersion grows increasingly popular by the day, we wanted to provide you with a nationwide glamping list that helps you pick out the best five glamping breaks available to you.
From glamping near London, to a glamping party in the middle of the woods, here are our picks: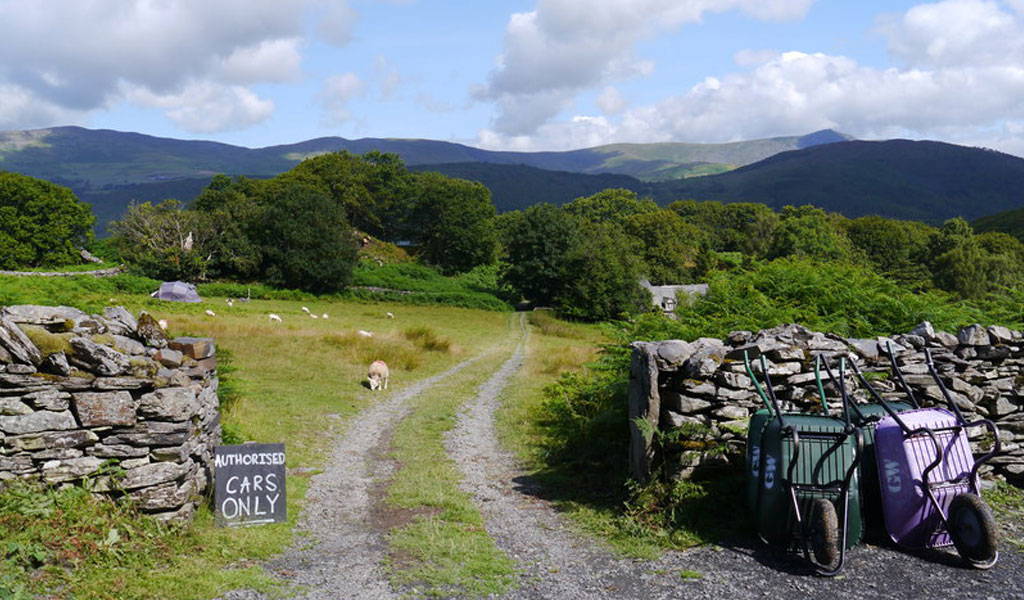 Glampers can access two yurts, a cabin, and plenty of tent pitches at Graig Wen, located on the banks of the Mawddach estuary. The tents are furnished with blankets and wood burners, plus special windows that provide panoramic views from within the glamping locations. It's also a short walk from the river, where you can take in some of the most dramatic river views of the area. You can cycle road-free to the Fairbourne beach, climb the Snowdonia Cader Idris directly from the glamping site, or drive just 10-minutes into Snowdown.
Snowdown is a mountain in North Wales, as well as the highest point in all of England and Wales, as the principal massif in the Snowdonia mountains. If you want to take in some insane views, atop this mount is where you're going to be successful.

For the best general views on your trip, consider visiting the region in the spring for flower blossoms, or during the autumn months for a cooler, autumnal experience that will have you cosy up to the fireplace.
Glamping in North Yorkshire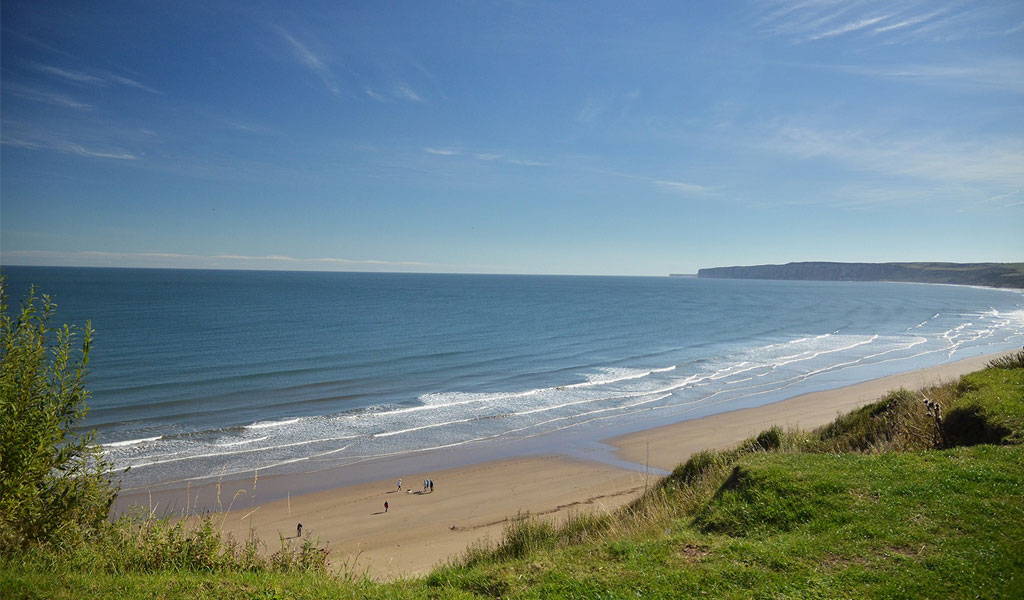 FILEY BEACH, NORTH YORKSHIRE
If you want to take in the agricultural community of England during your glamping experience, then look no further than North Yorkshire's glamping options. In the Yorkshire Wolds Valley, a diverse Humble Bee Farm offers tents of various sizes, as well as wigwams and yurts, plus regular camping pitches on the property. As a family-friendly camping region, families can access a play area and a baby changing bathroom, plus pygmy goats and chickens for the children to play with. Everyone can also collect eggs from the chickens and take part in "nature weekends" hosted by the farm.

On the premises, a farm shop sells local sausages, bacon, and ice cream. You can also drive just 15-minutes to the Filey Beach, as well as walk to the beach from the nearby Wolds Way (the trail starts on the property).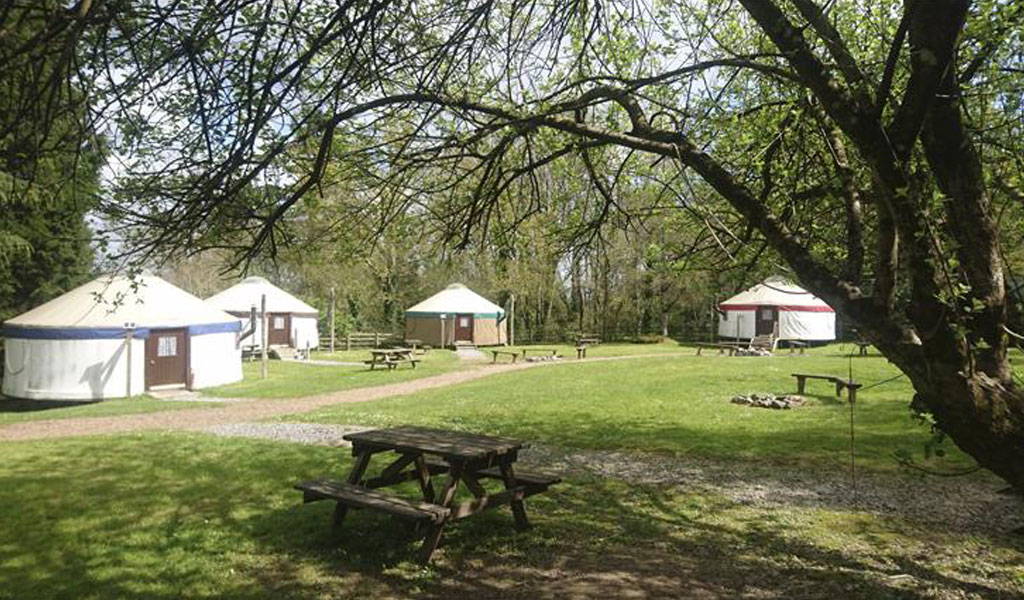 For all the wildlife watchers and enthusiasts out there, the Yurtcamp in Devon is going to deliver you with some of the best animal watching in your lifetime. Surrounded by 40 acres of gorgeous woodland, Yurtcamp is abounding in birds of prey, deer, and other woodland creatures.

Pick from a total of 22 yurts hidden among the trees in a discreet formation that won't scare off wildlife. Each yurt is equipped with a log burner, campfire pit, and an actual bed. You will also be able to view incredible stargazing through the viewing dome at the top of each yurt. Since civilization is far away at this glamping campsite, it is not recommended for families with small children.

Glamping Near London – Gravel Pit Farm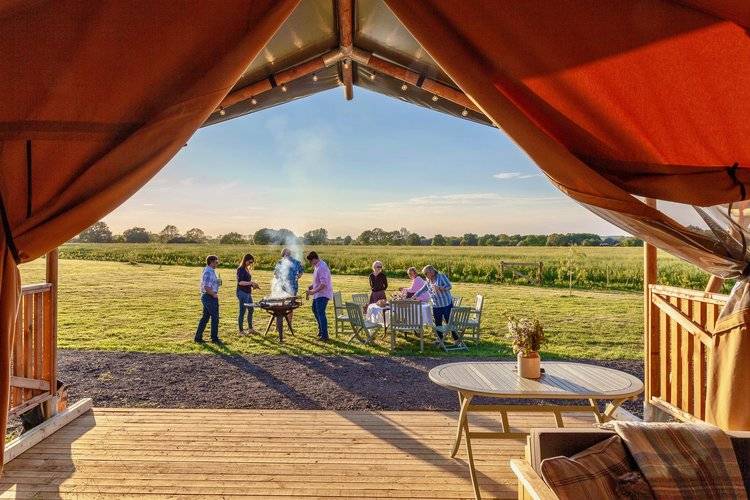 IMAGE COURTESY OF ANNABEL & SIMON ELLIOTT

For all of those living in London looking for some easy-to-access weekend retreats, consider the Gravel Pit Farm in Kent. For Londoners, Gravel Pit Farm is the perfect choice for a convenient top-end glamping experience near your home. Simply hop off the train at Marden Station, immersing yourself in a glamping experience that can feel so different from London. The peaceful, private and uncrowded place with luxury glamping tents, fully equipped with kitchens, en suite bathrooms, and electricity, is nestled right on the edge of Marden Village. You'll be in walking distance of pubs, post offices, and a 13th century church that makes this glamping experience one you will never forget!
Gravel Pit Farm is also a great glamping option for those wishing to entertain at a safe distance from other holidaymakers. Enjoy the huge barbecue outside, a hearth set up for communal fires, and the Victorian-style bathtub that has been planted with fresh herbs.

Glamping in Yorkshire – Vale of Pickering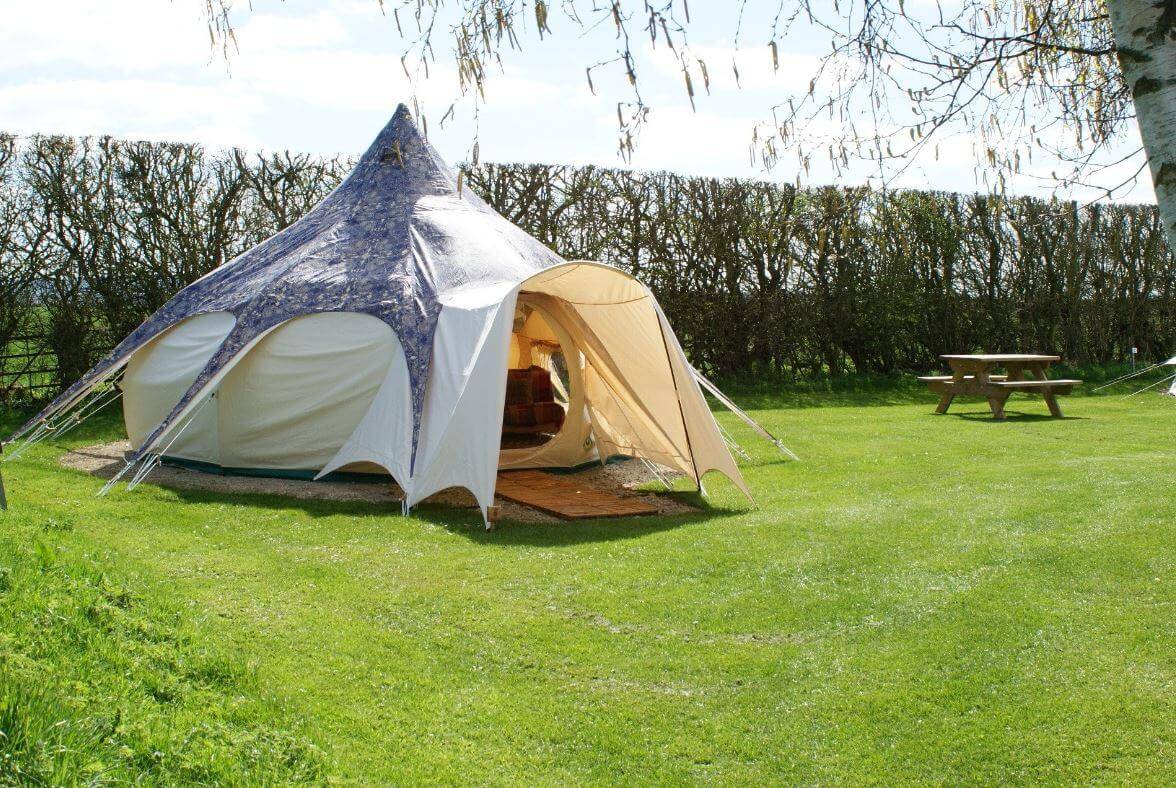 VALE OF PICKERING, NORTH YORKSHIRE
IMAGE COURTESY OF CHRIS STOCKDALE

Last but not least, we have one of our favourite picks for glamping in Yorkshire: Poppy, Rose, & Tulip Bell Tents Vale of Pickering. Located on the edge of The North York Moors National Park, glamping tents include a private area, outdoor games, and plenty of fun for children. Each glamping tent comes with the following glamping accessories: rugs, throws, cushions, hot water bottles, mattress protectors, plates, cups, gas stove, lanterns, fairy lights, tea towel, ice packs and more. It's a great option for families of all sizes.

Glamping Accessories, Domes and Tents Made for You
We proudly carry top quality glamping domes and tents that will transform any piece of heaven in England into a glamping haven. For camp site owners you're in a unique attractive position for so many families currently looking for holidays in the UK. list your glamping site on a variety of booking websites, where you can expand your offerings while fortifying your income doing something you love.

Here at venio.store, we believe the great outdoors are calling – including the amenities we all love and enjoy from decadent luxury bell tents to dreamcatchers. Check out our top five recommendations above today!

A SPECIAL THANKS TO ALL THE BEAUTIFUL GLAMPING SITES ON OUR BEST OF THE UK LIST!