Postmodernism is an art movement, an architectural philosophy, the mischievous heir of modernism! It is the style that would not conform, choosing pluralism and diversity over the status quo.
"I still don't understand what postmodernism is ... perhaps that's part of the movement, bewilderment."
Andrew Logan - Legendary Artist
Artists and musicians began to change the course of society back in the 1960s. Throughout the mid- to late 20th century a new postmodern movement surfaced in the western world. Postmodernism was given a ticket to ride, and architects delivered audacious buildings that challenged the powerful preceding modernist era.
Postmodernism was the re-imagining of what architecture, art, music and society could be. It was an international movement of disruption and re-organisation at the dawn of a new postmodern world. Surrounding buildings sustained impact from a new avant-garde neighbour with radical social reform on the agenda.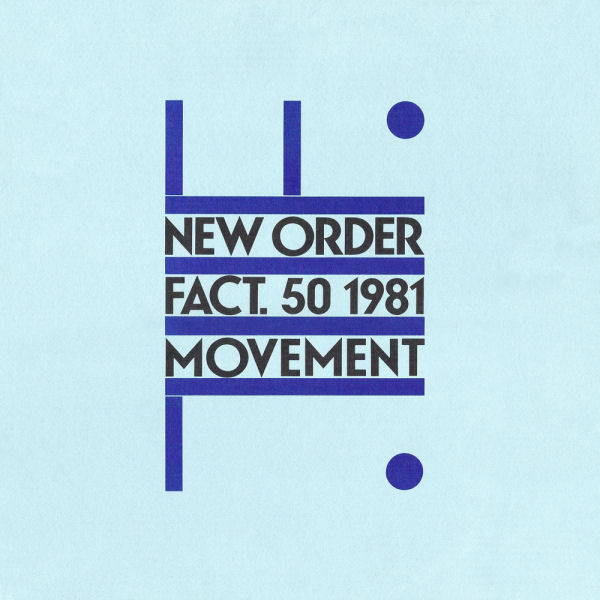 Original vinyl cover artwork by: Peter Saville
You will see experimentation in postmodern architecture. The buildings are entertaining and encourage creativity. They reject the dogma of the industrial machine and the symmetry of modernism. The architecture of the postmodern world stands out with unique, visually provocative structures. It's an amalgamation of the Arts and Crafts movement, architectural motifs, neoclassicism, classicism, and many other styles of architecture and interior design.

Some designers criticize postmodern architecture for its visual disruption and disorder. It's that same disruption that was so compelling for society.
"Disney World is closer to what most people want than what architects have ever given them"
Robert Venturi - Architect
So, let's explore five unique characteristics of postmodernism that can shape the exterior and interior expression of your home.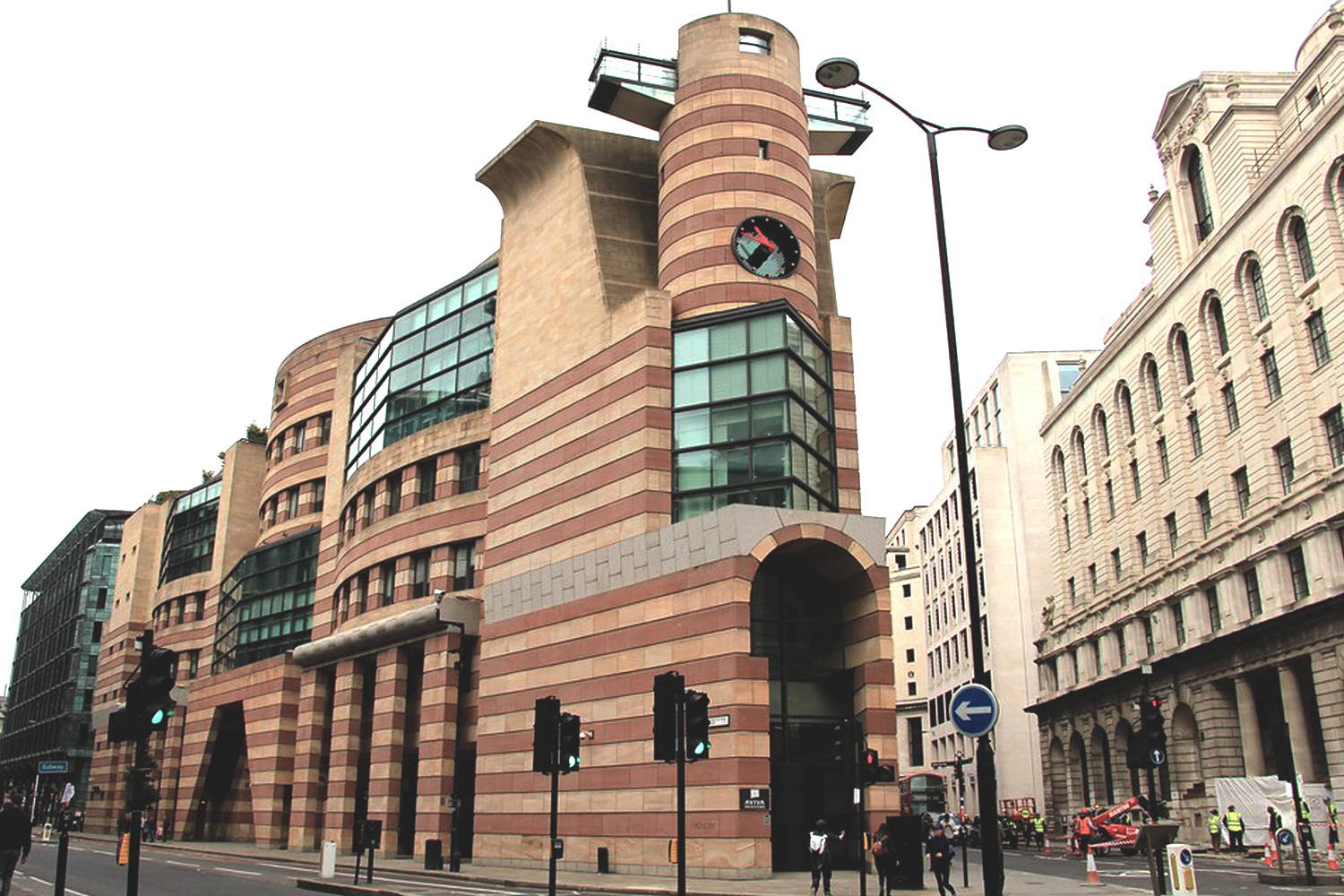 No 1 Poultry - City of London
Design by: James Stirling - Architect, completed 1997
Postmodernist architecture and interior design is a contradiction of all the previous design movements, creating animated designs with bold eye-catching geometric shapes. The contradiction is, features and details re-imagined that draw inspiration from various design elements and cultures to create a unique aesthetic.
"contradiction has a special obligation toward the whole: its truth must be in its totality or its implications of totality. It must embody the difficult unity of inclusion rather than the easy unity of exclusion. More is not less."
Robert Venturi - Architect
The architect, James Stirling's No 1 Poultry is considered one of the greatest masterpieces of the postmodernist style in London. The building displays a progressive approach to design with a nod to the ocean liners of the modernist era. The appetite for postmodern structures and a new public realm expression is evident on this site, where the highly acclaimed architect Ludwig Mies van der Rohe's landmark modernist marvel was rejected and Stirling's postmodern curiosity prevailed.

Hotel Dolphin - Orlando, Florida
Design by: Michael Graves - Architect, completed 1987
A great example of postmodernist humour is the Hotel Dolphin (1987), Walt Disney World Resort in Orlando, Florida. The architect, Michael Graves developed a magical tale for the hotel and Disney style characters for the 47 ft. high statues that children marvel as they approach their hotel with dreams of a magical holiday.
"In a world where anything in your imagination can become a reality ... whimsical design decisions and statues of grandeur contribute to the famous Disney kingdom."
The freedom of postmodern expression allows this building to exist without compromise. A truly perfect match in the vision of an architect and the needs of a client.
Memphis-Milano Movement - Italy
Design by: Venturi Scott and Associates / Cervin Robinson
Complexity is a key feature to describe the postmodern look. The framework of interior and exterior design integrates various textures, colours, themes, and shapes. The variety of these elements creates complexity, in juxtaposition to the uniformity of modernism, and often borrows from the Pop Art style aesthetic.
In the disciplines of architecture and interior design, asymmetry is a very significant feature, especially for the postmodern style. Asymmetry creates playful unique elevations and spell bounds the viewer of the space. Typical features in the postmodern style are slopping pillars, walls, and contrasting structures. Angles and lines capture the attention of the audience. Varying colours, shapes, and materials frequently display asymmetry in postmodern design.
Fragmentation is another playful feature of postmodern architecture and interior design. This concept creates fragmented buildings and interior elements that differ, but still maintain a visual cohesion, that also respect a function or purpose. Fragmentation plays with the light and colour of a building or interior space that can change the aesthetic from daylight to night.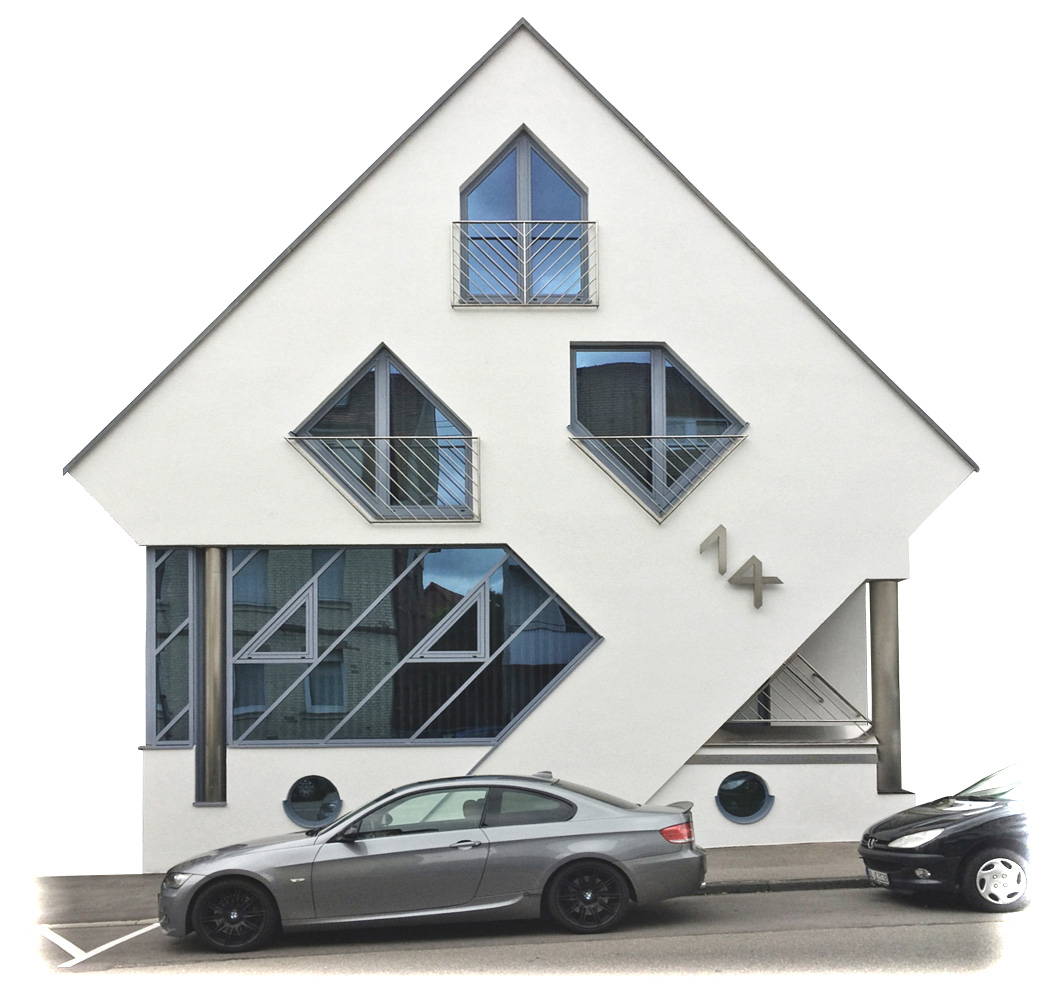 Wohnhaus - Stuttgart, Germany
How can I introduce postmodernism inside my home?
The most common colours for postmodern interior design
Turquoise blue and pink colour tones are often mixed with a soft palette of crème beige plaster, taupe's, silver, and grey. Bold primary colours are prominent in postmodern design. In terms of bathroom design, frosted glass shower walls provide excellent colour and light diffraction.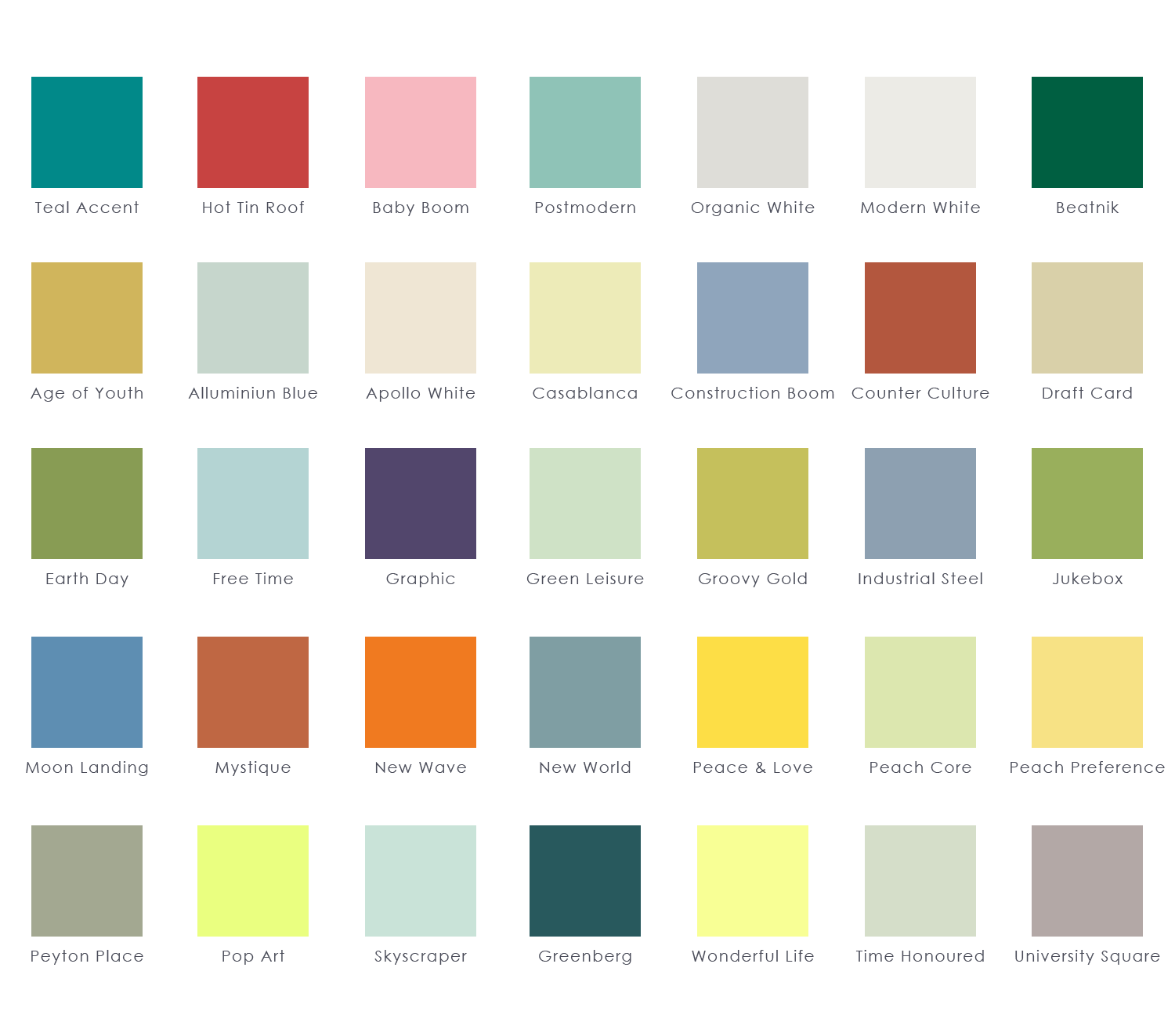 Materials and textures of the postmodern style
Polished concrete is fashionably used on wall and floor finishes these days. Another option is to accentuate walls with fine hemp and silk wallpaper to give an elegant depth to the room. Your interior space will make a stylish statement when dressed with high-end Italian or French furniture from the '50s or vintage retro furniture from the '60s / '70s.

Lighting and fixtures of the postmodern style
The playful nature of postmodernism allows plenty of personal expression. For example, Italian lighting is a timeless feature in interior design and will be an iconic centrepiece in your home renovation.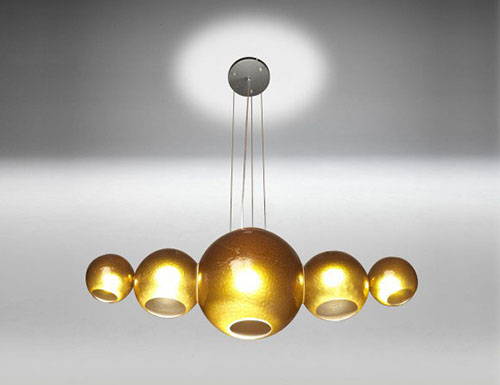 Can you see how postmodernism continues to influence today's design trends!

The addition of iconic lighting designs from the '70s / '80s can elevate the architecture of a home and will enhance its uniqueness. If you're looking to add wooden floor in your house, for a postmodern look use natural grey/taupe colour instead of honey wood or dark brown tones.
How about the different spaces in my home?
Many people associate neat, clean, and simple visual design to the modernist movement. In contrast, postmodernism does not require perfect symmetry and celebrates colourful, articulated surfaces. Interior design in postmodernism is a little bit disorganised but in an elegant manner! A professional designer of postmodernism will specify the materials and colours according to how adventurous their clients' tastes are. The way postmodernism sets different features apart in a space can create drama and focal points in the room.
Postmodernism can be defined as the structural, practical, repurposed, and recycled style. Bold colours and sturdy texture. Confident homeowners can have the best of the postmodern style because they dare to experiment!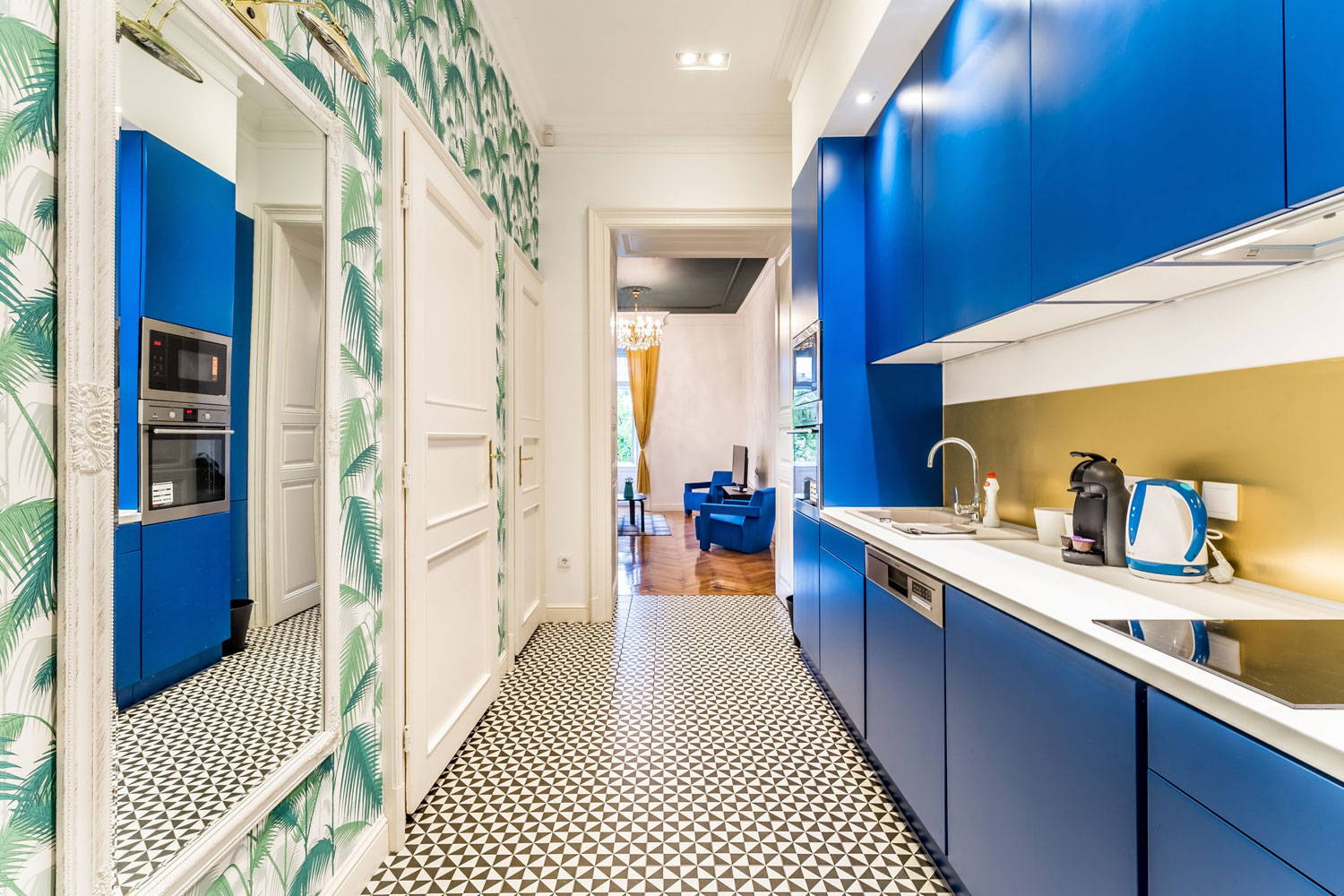 The kitchen is a place where you must focus effort into achieving the postmodern look. The reason behind this difficulty is that kitchen appliances only come in one style and specific colours. You should choose brushed chrome or black coloured appliances and mix them with unfinished woods or stone. For a statement, kitchen cabinets with bright pastel colours will leave a beautiful postmodern impression.
For kitchen interiors, the postmodern style encourages the use of white glass, gold or copper instead of modernist industrial stainless steel.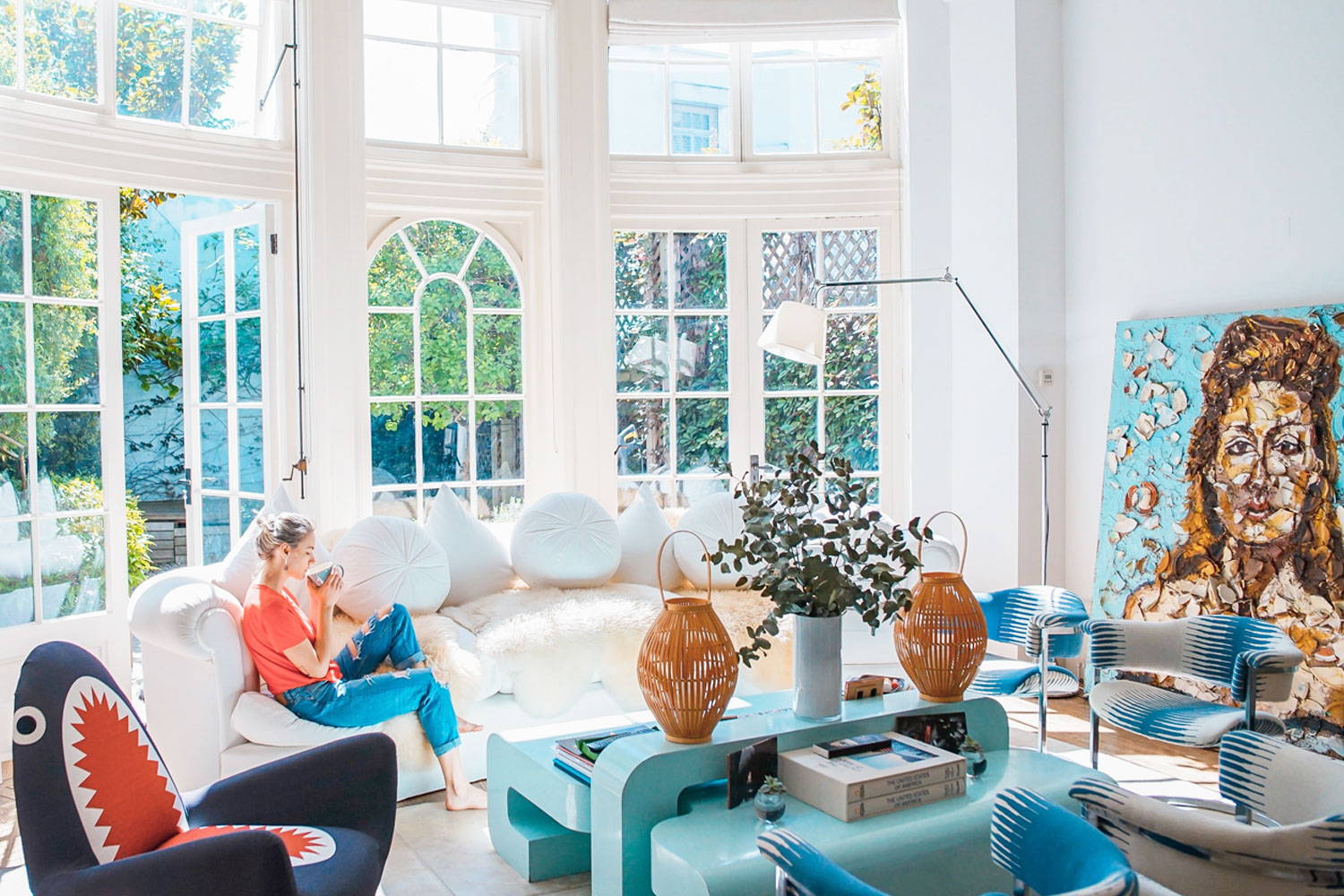 In contrast to the kitchen, living rooms have more freedom to experiment. It's where we spend much of our free time. Don't hold back and allow the space to be a place of relaxation and fun, a concept that fits perfectly with the postmodernist style! In the living room, the essential feature is its furniture. The furniture should go with the idea of free-spirited postmodernist expression.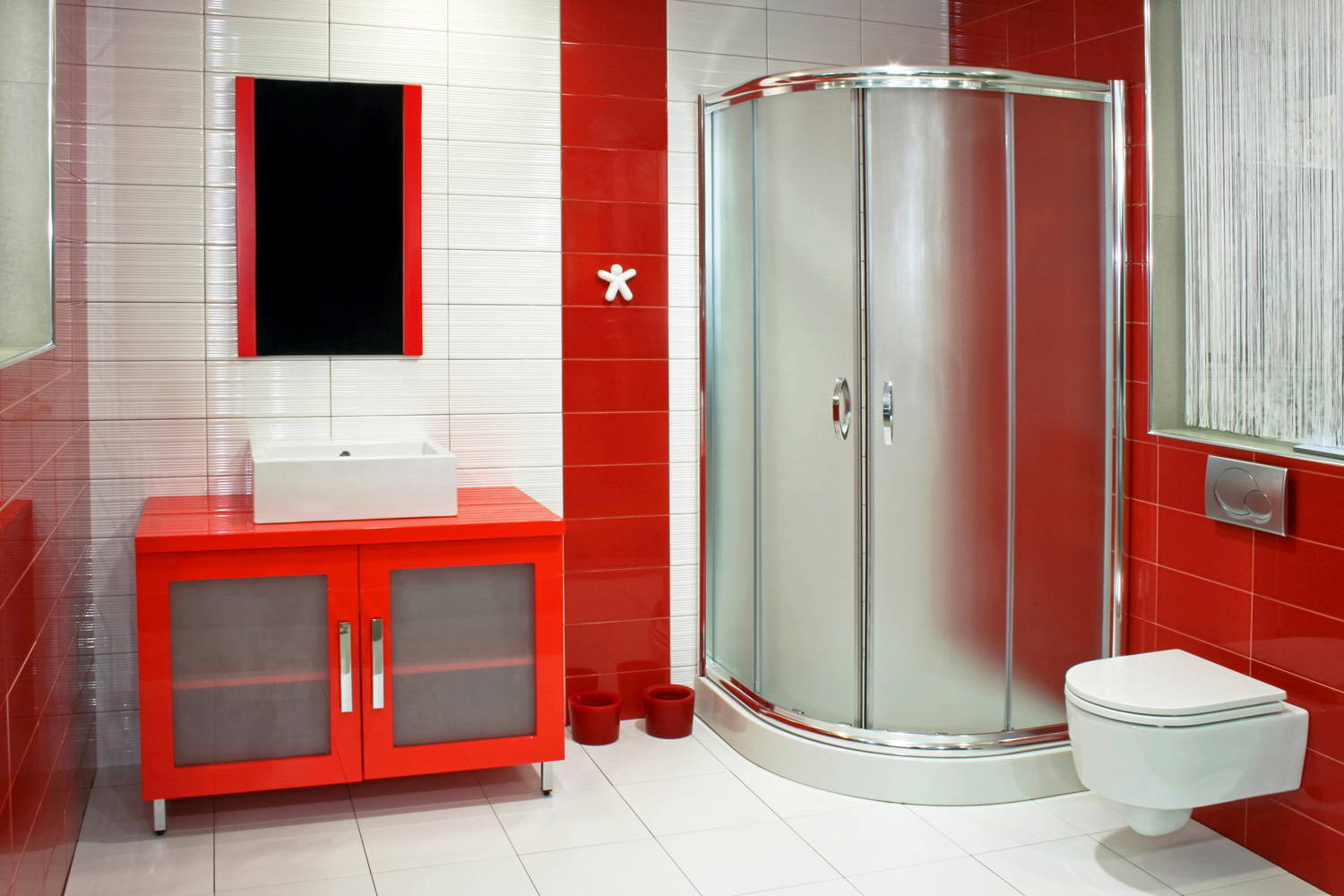 There's no space in your home more suited for postmodernist styling than a bathroom. Bathroom features are easily adjusted to match this style. Sanitary fittings can be sleek, colourful and daring with large decadent showers. Baths also play a significant role in terms of their shape and size as a centrepiece of the space. Your bathroom will become more luxurious, spacious, and more beautiful. Andy Warhol would be right at home in a postmodern bathroom!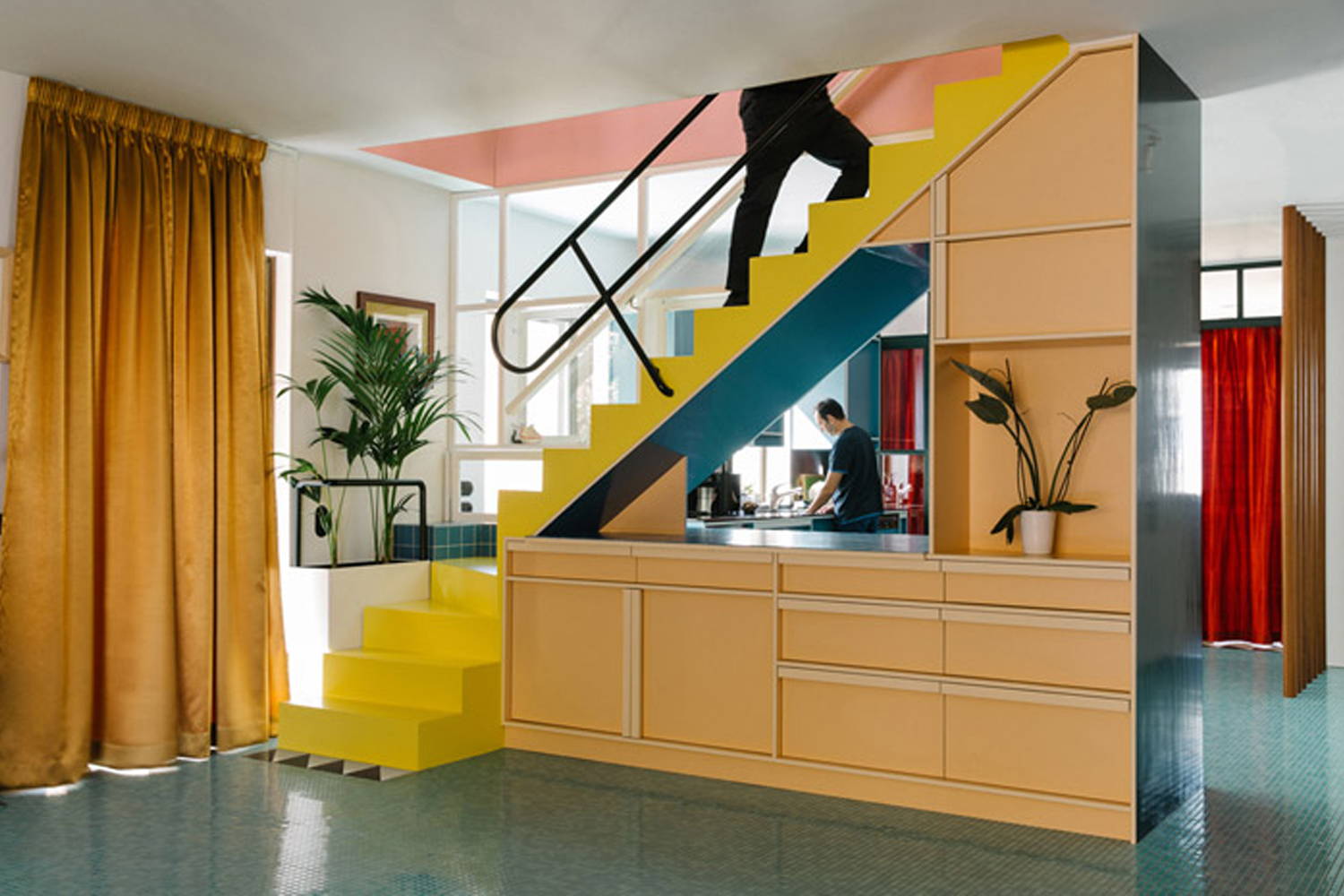 Architects absolutely love to design a great staircase! There's something poetic about them and postmodern architects have many playful ideas. They incorporate more practicality and postmodern domestic features; add storage space creatively and of course, often make a statement with bold colours.
The postmodern movement allows designers and architects to think outside the box for their clients. The inspiration flows from a broad category of eras and genres. Postmodern design continues to influence the diversity of our modern skylines and can bring your home youthful charming character. It is the style that enables the innovation of architects to go beyond the traditional rules and experiment more. Indeed, postmodern designs are the reflection of artistic expression today.
DISCLAIMER:
THIS BLOG/WEBSITE IS MADE AVAILABLE BY THE AUTHOR/PUBLISHER FOR EDUCATIONAL PURPOSES ONLY AS WELL AS TO GIVE YOU GENERAL INFORMATION AND A GENERAL UNDERSTANDING OF DESIGN CONCEPTS, NOT TO PROVIDE SPECIFIC CONSTRUCTION ADVICE. BY USING THIS BLOG SITE YOU UNDERSTAND THAT THERE IS NO DESIGNER CLIENT RELATIONSHIP BETWEEN YOU AND THE BLOG/WEBSITE PUBLISHER. THE BLOG/WEBSITE SHOULD NOT BE USED AS A SUBSTITUTE FOR SEEKING COMPETENT PROFESSIONAL ADVICE FROM A LICENSED PROFESSIONAL TRADESPERSON OR DESIGNER.