Kitchens have changed considerably over the years as a reflection of modern life. Traditionally, kitchens were positioned to the rear of the house. Today, the kitchen is often a central activity area that functions as a pivot point between the family room, dining area, and garden.

There are some key aspects you should consider that will create a strategic framework for your new kitchen design.
- How many people must the kitchen serve in your household, their age, and accessibility?
- Will your kitchen have an island unit? Do you even have enough floor space!

- How will the kitchen be illuminated? Elegant suspended ceiling pendants, soft under-counter lighting,
dimmable light switches, wall mounted diffused lighting?

- What appliances are essential?
- What appliances and amenities are optional extras?


- Always consider the 'work triangle' between activities.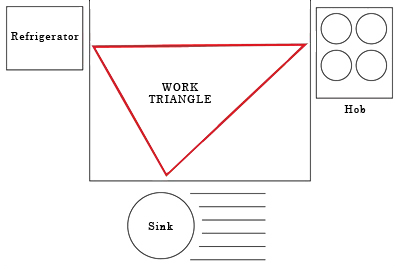 Establishing these core principles early on will narrow your selection of design options in a positive way. Leading to less indecision when visiting showrooms and speaking with kitchen designers.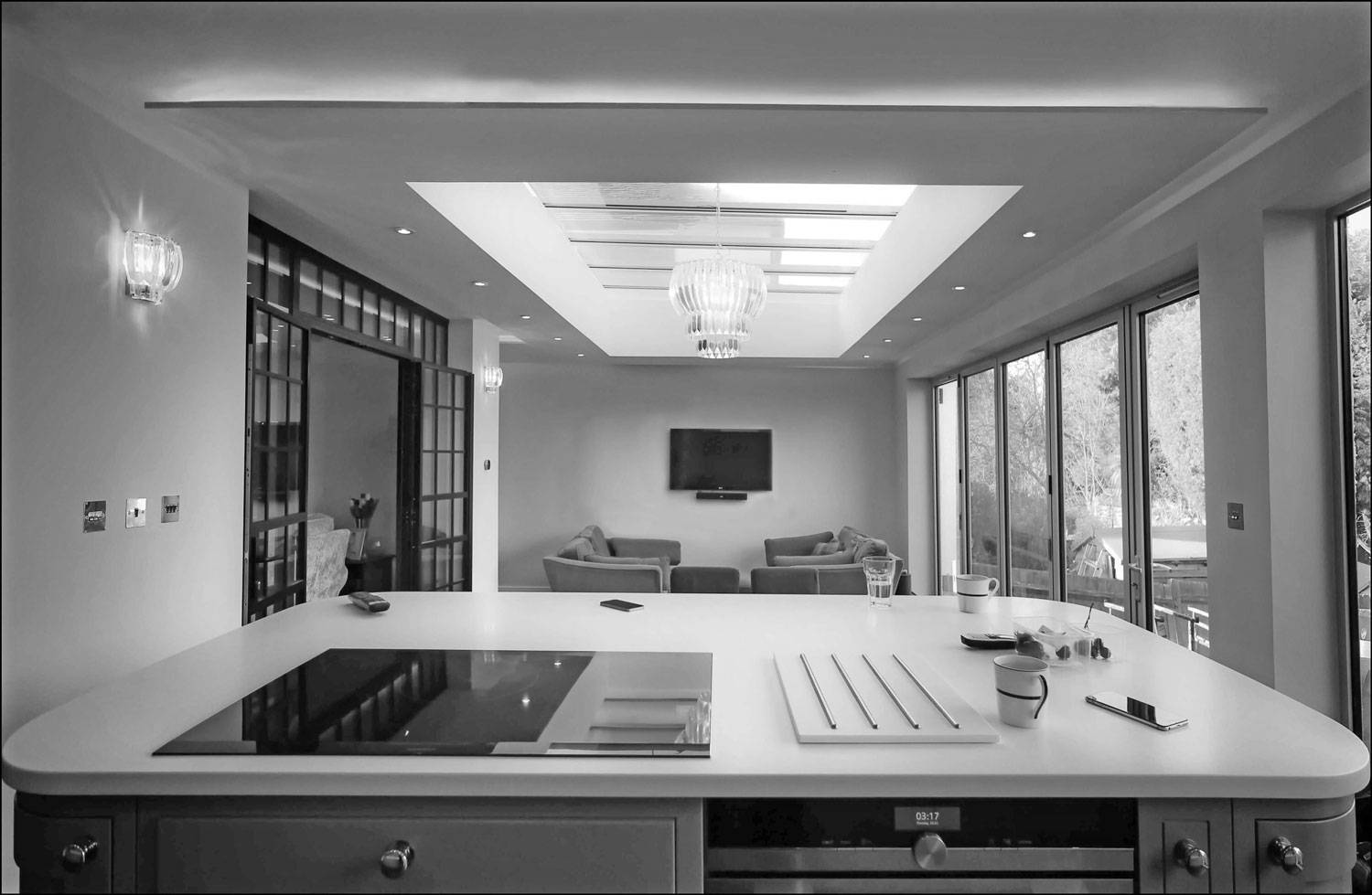 HOME EXTENSION - ORCHARD ROAD
1. The Kitchen Is the Heart of the Home
In modern life, the kitchen is the one space in our homes where we all come together at least once a day. For this reason, the kitchen deserves special attention and must be inclusively considered for all members of the family.

If you have the space, an island unit is a great way to link several spaces in the home and promote different activities; the cook will stay engaged with family and guests whilst preparing a meal, and everyone else can do what they please whilst having full view of the kitchen. Kitchen islands are fantastic for entertaining, and they promote social interaction in the household.

If your space is limited, careful selection and placement of appliances will make your kitchen a lot more enjoyable. For example, in a small galley kitchen consider NEFF's range of Hide and Slide ovens to save space in a very practical way!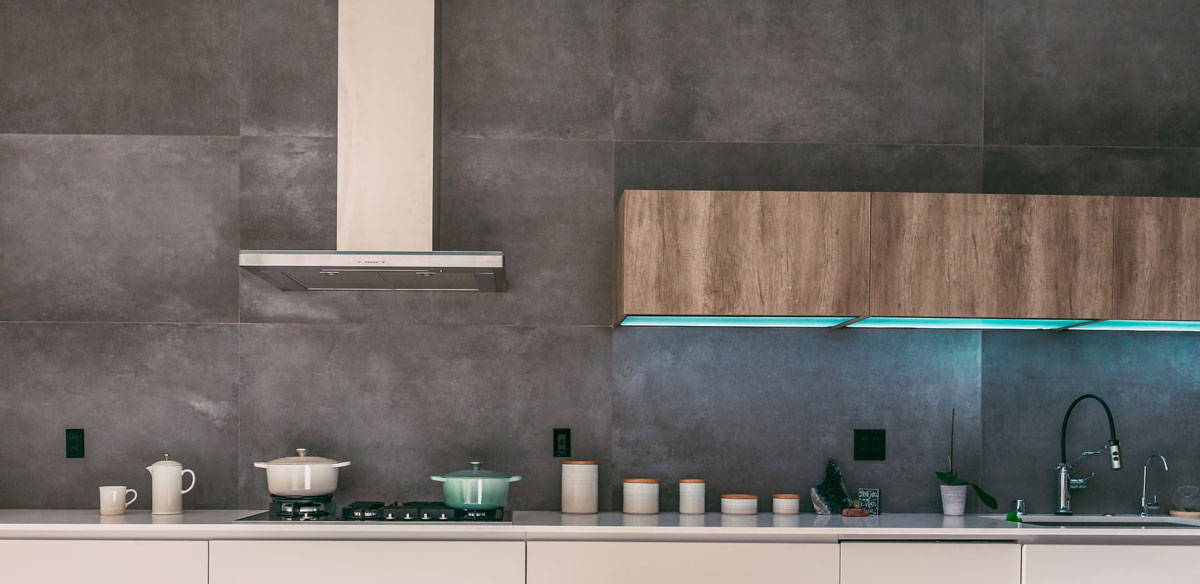 2. Play with Designs and Materials
Combining designs, textures and materials is perhaps the most expressive thing you can do to bring life to your kitchen and define the space. In modern days, homeowners gravitate more towards simplicity. After all, we want to come home and experience an environment that's soothing and stress-free, so we can let go of the burdens of the day.

Simplicity often translates into a modern, minimalist design with clean lines and contrasting colours for a pop of life. When it comes to design, removing cabinets on upper walls is one of the most popular trends. This is because it opens up the space, making your kitchen look a lot brighter and bigger than before. It also allows you to have more counter-top space, which you can use more effectively.

Usually, upper wall cabinets are not even reachable, so it's often space that you're misusing. Instead, open shelves can be a great way to add more storage space and it will also provide a focal point.

Contrary to what many may think, "simplicity" doesn't mean things are boring. In fact, you can make things interesting by using materials with different textures. For example, rough-cut wood will make reference to a more natural, rustic look, whilst metal can add a more industrial style. The type of floor and ceiling finish you choose can also make a huge impact and bring a lot of contrast through textures.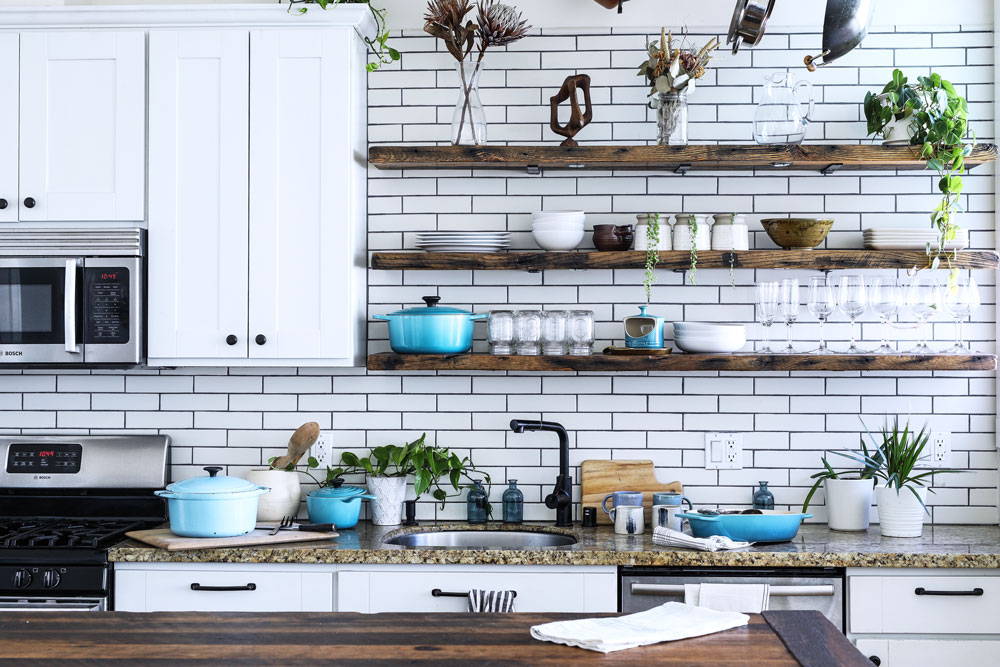 If the kitchen is the heart of the home, it's important that you make it an expression of yourself and your family. Many people think that they need to sacrifice self-expression over practicality, but that's not the case at all. You can have the best of both worlds and create a kitchen that's a reflection of you and also has everything you need.

Ample storage space is extremely important in a kitchen; after all, there are many things to store. It's also important these things are easy to access and make sure the kitchen is a completely functional space.

For this reason, you must avoid overcrowding as much as possible, especially if your kitchen is on the smaller side. To do that, consider naturally-finished wooden shelving! It looks amazing, especially in a modern kitchen because it gives out a rustic vibe that's very subtle and elegant, and it will change the rhythm of the space entirely.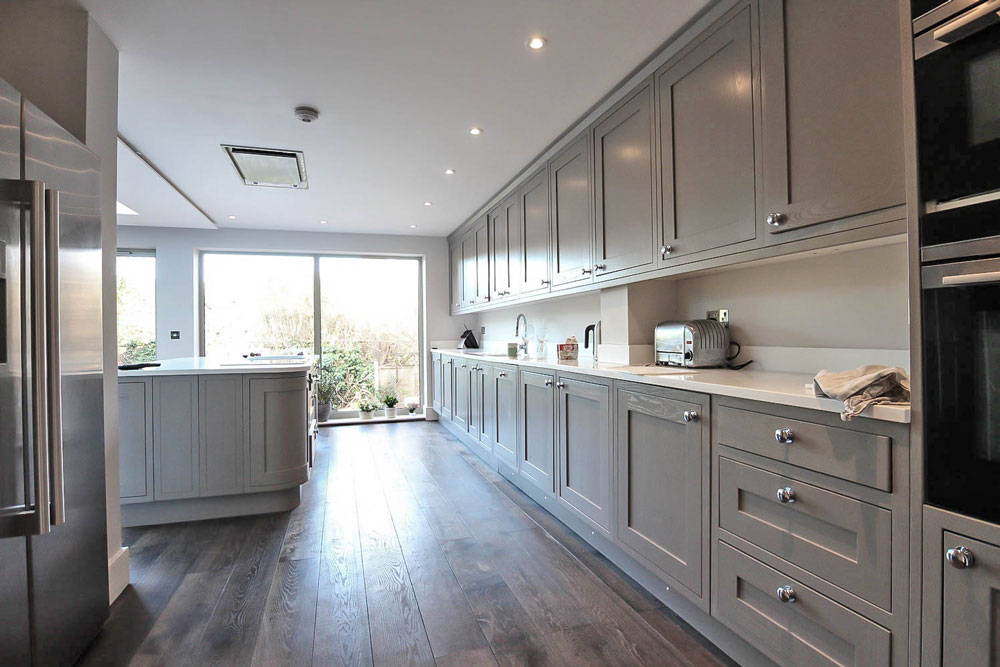 OPEN PLAN KITCHEN OVERLOOKING GARDEN - ORCHARD ROAD
Yes, white cabinets offer a very classic look, and they're very common. But 2020 is seeing them out and opening the door for dark cabinet colours. People are discovering just how wonderful dark cabinets look with a wood stain or colourful kitchen island. The contrast is amazing!

However, this is not an option for the faint of heart. The use of dark cabinets is bold, intense, and very dramatic. Dark-jewel tones are most popular, so consider navy, emerald green, black, and even plum if you're giving this idea some thought.

INTERIOR RENOVATION - CHINA WHARF
The type of kitchen cabinets you choose will make a great influence on the character of the space, which is why you should consider your options carefully. I'm sure you already have a vision in mind, so what you want to do is find the type of cabinets that will help you fulfill that vision.

For example, if you have an open-plan kitchen, minimalist handles and clean lines will work perfectly with all adjoining living spaces. They won't clash with the rest of the style or décor around the kitchen area, and they're very modern, sleek, simple, and stylish.

If you have a more traditional kitchen, you should consider wood because it can elegantly change the entire setting of the space. For country-style kitchens we recommend using light woods, such as beech, birch, ash, maple, rustic oak, or chestnut because they will look incredible.

Your choice of kitchen cabinets will significantly influence the character of the space. For open-plan kitchens, minimalist handles and clean lines often work well with adjoining living spaces.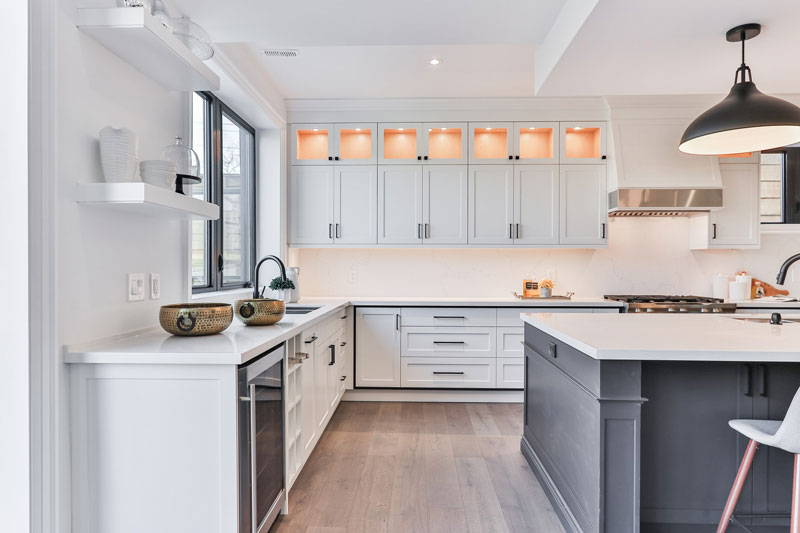 6. Under-Cabinet Kitchen Lighting
Under-cabinet kitchen lighting is one of the most interesting ways of brightening your kitchen, specifically your kitchen counter and other work-spaces. Instead of just using traditional lighting options, this one will create a sense of modernity that's very difficult to beat.
You'll be happy to know there are different types of under-cabinet kitchen lighting to choose from. They provide uniform lighting, and they can be connected to the existing lighting system. There are puck lights as well, which is a great option for transitional kitchens. The light will be focused exactly where you want it, thus creating drama and intensity.
And last but not least, you have tape lights, which are plug-in, easy to install and will change the entire mood of the space. They're also known as rope lights, and they're a very affordable option that's easy to handle, customisable and will also fit small spaces.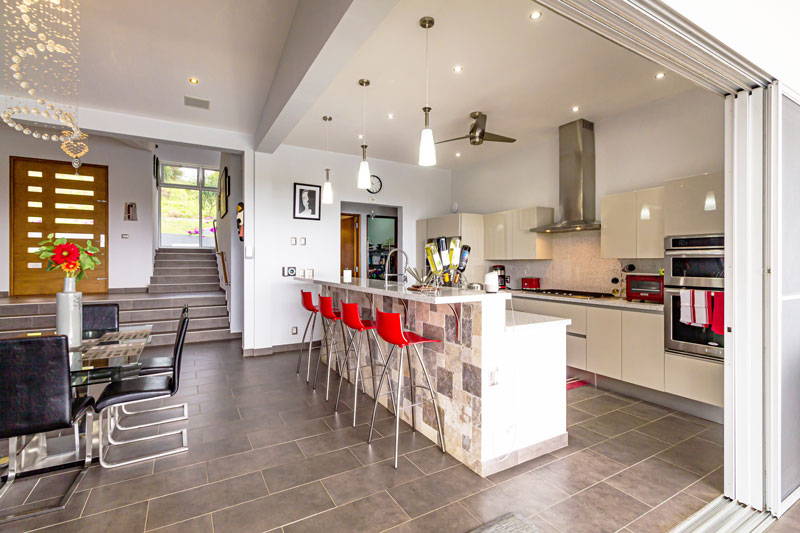 7. Consider Ceramic Tile Flooring
Speaking of types of floors, you might want to give ceramic tile flooring a good, long thought. After all, it became quite the popular kitchen flooring option in recent years, going so far as to be the second most desired option. With the adoption of technology, ceramic is now available in so many different styles, sizes, and designs the choices are endless.

This means homeowners have a lot of options to choose from. You can even find ceramic tiles that look just like hardwood, which is incredible. What I'm saying is ceramic tile flooring is so versatile it's impossible to ignore the possibilities it provides for your kitchen design.

For example, if you want hardwood floors but it's just too much maintenance for you, ceramic tiles can make that happen. Additionally, they can be made to resemble many other materials, even stone, and the surface can mimic the materials as well. You can have the flooring of your dreams without having to deal with maintenance or other inconveniences.

When it comes to size, traditional sizing is not the only option available for ceramic tile flooring. In fact, the options are virtually limitless. Going back to the example of ceramic hardwood, you can have your ceramic cut into planks to mimic the entire experience of hardwood flooring. Or you could go crazy and have customised tiles.

Your kitchen is one of the most sacred places in your home. It's not only the heart that brings everyone together, but it also connects you and your family to other rooms. Needless to say, kitchen design is important and you need to take control of how you want your kitchen to feel.

Kitchen design allows you to give that space personality and life. Usually, it's an extension of your own personality and the way you look at life, so it's truly a beautiful symbiotic expression.
The best part about it is there are no limits; you can combine many different elements and create a balanced space that will make you feel incredible to be in. So, whatever you do, listen to your gut and your heart!

DISCLAIMER:
THIS BLOG/WEBSITE IS MADE AVAILABLE BY THE AUTHOR/PUBLISHER FOR EDUCATIONAL PURPOSES ONLY AS WELL AS TO GIVE YOU GENERAL INFORMATION AND A GENERAL UNDERSTANDING OF DESIGN CONCEPTS, NOT TO PROVIDE SPECIFIC CONSTRUCTION ADVICE. BY USING THIS BLOG SITE YOU UNDERSTAND THAT THERE IS NO DESIGNER CLIENT RELATIONSHIP BETWEEN YOU AND THE BLOG/WEBSITE PUBLISHER. THE BLOG/WEBSITE SHOULD NOT BE USED AS A SUBSTITUTE FOR SEEKING COMPETENT PROFESSIONAL ADVICE FROM A LICENSED PROFESSIONAL TRADESPERSON OR DESIGNER.